WhatsApp Payments gets a new feature:
WhatsApp Payments feature will now support the option of scanning a QR code in order to make a payment via the app. Earlier this month, WhatsApp had added the option of making payments to any UPI ID via the feature on both iOS and Androidversions of the app.
These features were not part of WhatsApp Payments on Android or iOS when it was launched, and other players in the market had raised questions about the interoperability of UPI Payments on WhatsApp. The Facebook-owned messaging app had then clarified that Payments was only in beta-testing and limited to under a million users.
How to use WhatsApp to send Payments to any UPI ID
WhatsApp on iOS and Android now has the option for sending money to any UPI ID, though finding it can be a bit tricky. Users who already have Payments can go to WhatsApp>Settings > Payments. In this tab, users will see a transaction history, the bank account which is linked, followed by a new option called Send Payment. Just tap on Send Payment, and then next page will list all your contacts. However on top of that, there will be an option @ Send to UPI id. Tap on this, enter the UPI id.
This means that if someone is using saying UPI on their bank app or on BHIM, one can now enter that particular UPI id and share money. The other user need not necessarily be on WhatsApp or have Payments activated on the app in order to receive money from their friends, who might prefer this particular method for sending money via UPI.
WhatsApp on Android and iOS will now let users notify their friends on activating Payments, if they have not done so. The other user will be able to activate Payments after the notification is sent out.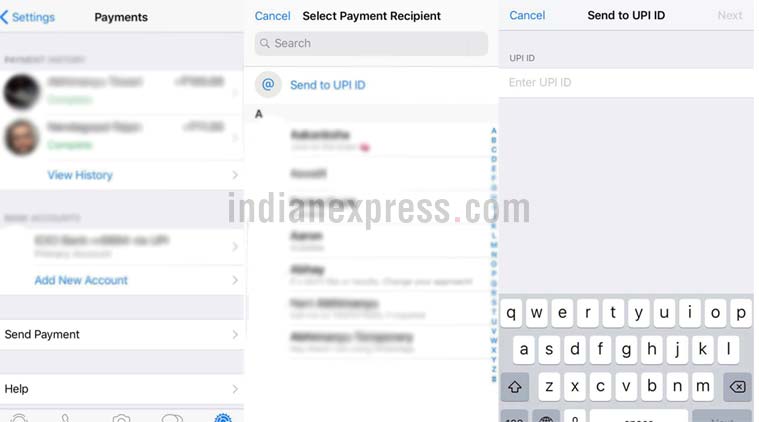 WhatsApp on iOS and Android now has the option for sending money to any UPI ID, though finding it can be a bit tricky.
WhatsApp: How to use scan QR code feature to make Payments
WhatsApp's Scan QR code option is only available on the Android beta version of the app. The iOS version of WhatsApp is not reflecting this. Version 2.18.93 on Google Play via beta app shows the feature. Users can go to Settings on WhatsApp, followed by Payments, New Payments and choose Scan QR code as option. A user will then have to point the camera to the QR code and the payment will be completed. The UPI pin will be required to complete the payment process.
WhatsApp has faced criticism over its implementation of UPI-based payments, because it did not include the ability to scan QR codes, send payment to other UPI ids, etc. Also unlike other UPI-based apps, which need to have a passcode to open it, WhatsApp does not make it compulsory, though it does offer two-step verification to users.
Source by:-indianexpress
Share: